Will You Be Wired for The Holiday?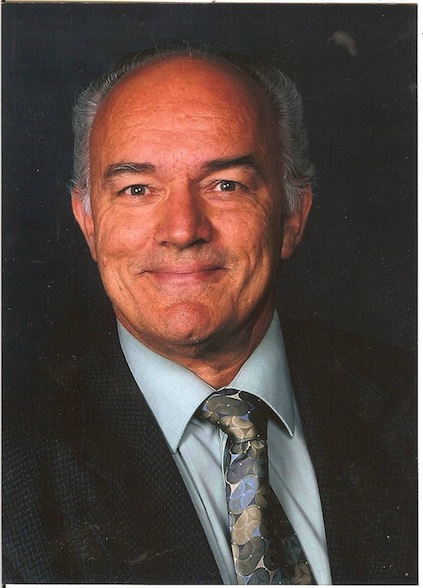 by Martin Forte
Let's take a tour of the past!  Enter into your mind's time machine and venture to the point when you were between the ages of four and eighteen experiencing the sounds, smells and social events of Thanksgiving and Christmas.  Can you remember the fragrance of cinnamon, apple cider, roasted turkey, sweet potatoes and of course the warm apple pie and vanilla ice cream?  Are you able to recall the delightful time of seeing your grandparents and cousins, the wonderful conversations before, during and after the meal as well as looking forward to the year when you were promoted to the "adult" table?  You must admit, those were great times and fun.  Those were the days where we were not "Wired For the Holiday!"
Now the question becomes, will you have the same experiences this year with your family?  Will your children pack their memories with the recollection of fragrances, conversation and interactive events with their grandparents and cousins?  Or, will these memories be blocked due to the interference of electronic devices and media?  It is a sad commentary of contemporary life that the youth (and sometimes adults) are held captive to their cell phones and tablets 24/7 preventing them the wonderful privilege of these wonderful memories.
You might ask, what is the solution?  Well, glad you asked!  The solution is rather simple but not easy to do since we will have to attack the power of addiction and replace it with the power of play.  For the holiday get-togethers the number one recommendation is to disallow any electronic device.  Phase two is to replace these electronic monsters with the pleasures derived from activities and board games.  The judicious use of board games will increase the pleasure quotient as well as assisting in all family members going home with wonderful memories.
The good news is that there are so many great games available that will accomplish the goals of interactive play, communication and of course fun.  Many games have an age range that you can include the entire family from young children to the grandparents.  To make things easier for you we have several suggestions that will accomplish the goal of replacing the electronic influence and fun interaction with all family members.  If you click on the name of the game it will link to our website directly to the description of the game.  You can order from that page.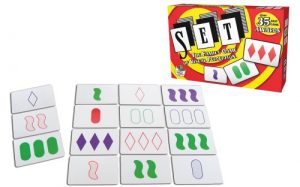 SET is a highly addictive, original game of visual perception; a fascinating challenge for either solitaire or competitive play. To create a SET, a player must locate three cards in which each of the four features is either all the same on each card or all different on each card, when looked at individually. The four features are, symbol (oval, squiggle or diamond), color (red, purple or green), number (one, two or three) or shading (solid, striped or open). Age is no advantage in this fast paced family game. SET is great fun for the whole family because there is no previous knowledge required.
Carolyn's Comments:
This incredible card game teaches the concept of "sets" while it sharpens your thinking skills. Any number can play and even 6 year olds can compete successfully. Lots of fun for all ages. Whatever you do don't tell your child this is a "learning game". You may spoil the fun. Price $12.95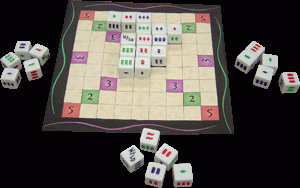 SET Cubed is A Curious Game of Clever Connections, challenging a player's ability to identify SET's between the dice in their hand and those already on the board. Players can play up to 3 dice per turn making as many SET's as possible. Create SET's up, down and across the board, the more SET's you create, the higher your score. As the number of dice on the board increases so do the possible SET combinations. Rack up points by using BONUS SQUARES! Roll a WILD die and unleash the possible number of SET's that can be made during your turn! How many SET's can you make?! The player with the most points wins!  $14.99
Ages 8 & up
2-4 Players
Fun for the whole family
Takes 30-45 minutes to play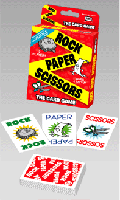 Here's the fast & fun CARD VERSION of the game kids have played for generations. Each player lays down a card. If your card beats your opponent's card, you take it. When all cards have been played, the player who has collected the most cards wins the game!!
CONTENTS:
* RPS playing cards
* Game Instructions
Ages 4 and Up
For 2 Players
Battle for every spot! Challenge your friends and family to be the first to claim three-in-a-row and get five points and win. Knock-out your opponent's spot with a higher value card or use your knock-out card to take any spot.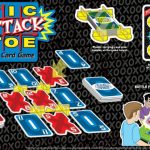 Carolyn's Comments: This game is fun for the whole family yet it will help pre-schoolers learn number recognition and sequence at the same time! It plays like Tic-Tac-Toe but with a twist: You can change the game by playing a higher number card on top of your opponent's card! There are wild cards too so there are surprises on every turn.
Ages: 3 and up (note: Your child must have some understanding of number order 1 – 9 and be able to recognize at least most of the numbers in order to enjoy the game.) $9.95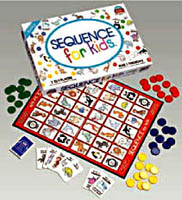 A SEQUENCE GAME JUST FOR KIDS!
Play a card from your hand, place your chip on a corresponding character on the board…When you have 4 in a row, it's a SEQUENCE and you win! Use a UNICORN card to place your chip anywhere. Remove your opponent's chip with a DRAGON card. Have fun with you friends playing SEQUENCE.   $13.25
There is always one, and only one, matching symbol between any 2 cards in this game. Spot it and you win! A sharp eye and a little bit of speed is all it takes to become a Spot it! master. $12.95
Ages: 6 and Up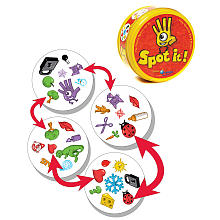 2 to 8 Players
Play Time: 10 – 20 Minutes
Contents:
55 cards
Illustrated rules
Carolyn's comments:
This is a great activity for developing visual discrimination. The objects are often different sizes, adding additional challenge for search and find. The handy tin fits in your purse so Spot It can be played whenever you need something to occupy your children for a few minutes: waiting for food at a restaurant, sitting in a waiting room, etc. You can simplify the rules for younger children; they love to search for the matches and the visual skills developed are great for reading readiness.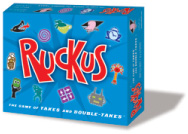 The game of takes and double-takes! It's a game of visual perception with a twist. If you see another player lay down cards which match one in your hand, you can take them away. But beware, someone slower to move may also have a match and take them all from you! this is a great family game because the younger, slower players have an advantage!   $9.95
2 – 4 Players
Happy Birthday! gets kids laughing as soon as they open the box. It's the hilarious game where players of all ages take turns giving each other surprising gifts. Happy Birthday! makes any event a party!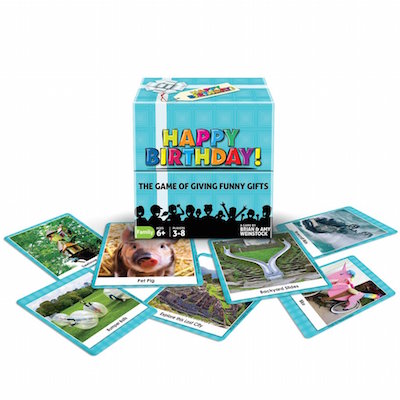 How to Play
All the cards picture birthday "gifts," some great, some outrageous! Everybody gives you a gift from their hand.
You pick the best…and worst.
Those players get a point!
Contents:150 gift cards, 1 rules manual
Ages: 6+
Players: 3-8
Available at EIE.  Price $12.99
The High-Fivin', Fin-Flappin' Card Game
Happy Salmon is the simple, fast-paced card game packed to the gills with high-fivin', fin-flappin' fun. Actions including the classic "High 5", the unifying "Pound It", the frantic "Switcheroo", and the delightful "Happy Salmon" will leave players doubled over in laughter. With so many mini-celebrations built into the play, it's the happiest game ever!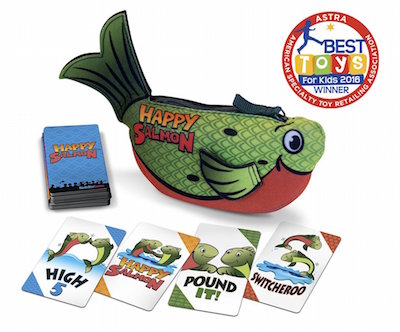 How to Play
Everyone calls out the action shown on their top card.
When two players have a match, they celebrate by
performing that action together, then discard their top card.
The first player to match all of the cards in their deck wins!
Contents: 72 cards, 1 Rulebook, Happy Salmon Pouch, great for traveling upstream!
Note: This is a loud, movement-filled game. Children who are sensitive to noise will prefer the "silent" version. Just as many movements, but no noise!
$14.95
As you can see, there are so many great games available for a totally Un-Wired Holiday period.  We encourage you to join the game brigade and have a fun family time this season.  All the above games are available from Excellence In Education.  If you click on the game name it will take you to our catalog.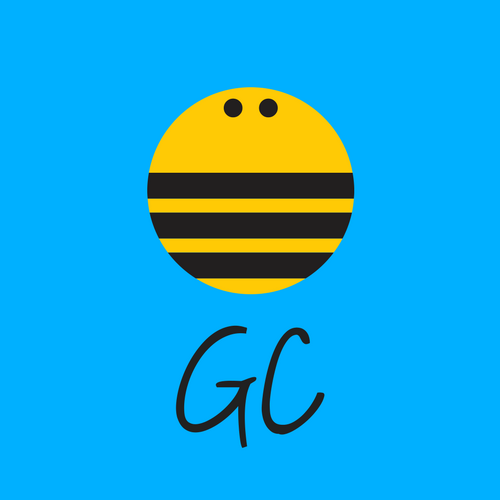 For more information on games you can also go to our website www.gamecurriculum.com